Well-written content is more powerful than email blasts or paid ads that create a temporary buzz. It can bring new business for many years.
I am sure that you have heard it a million times before, but let's face it: blogging is an essential tool for any business.
It gives you the opportunity to connect with your clients and helps customers learn more about you and your brand. You can even use your blog as a platform to generate leads and increase sales.
What is a blog? Blogs are the most powerful, inexpensive and easiest way to reach a world wide audience with your message.
According to Technorati's Web Index, there are over 165 million blogs on the Internet today. Forbes Magazine predicts that by 2014, 80 percent of all media will be consumed through "social media".
Blogs are today's new business cards. People check out blogs to find out what you have to say about your industry, how you approach certain situations, and the kind of work that you do. They also want to know what you stand for as a company and why they should hire your company over someone else's.
Blogging is one of the best effective ways to promote business. Not only can it be used to reach out to potential customers, but you can also use it as an online diary of sorts, for your own purposes.
It's a great way to stay on top of trends and news in your industry, and allows you to share interesting content with your followers.
You may want to begin by the creating a 'blogging team' within your company- this is something which will allow you more freedom.
The key is to write blog posts that will attract visitors and convert them into leads or customers. Here are 15 ways you can use a blog for your business success today!
What is Business Blogging?
Blogging for business is a marketing strategy that makes your company more visible online.
A business blog can be used as a marketing channel, just like email marketing, social media and direct mail marketing. This helps to support business growth.
Blogging is Good for Business and Marketing
Businesses should include blogging in their marketing strategies now that there are almost 4 Billion people online.
Blogging not only drives website traffic, promotes your products and services but also builds trust with potential customers.
This post will highlight the many benefits of blogging to business. We'll also show you how to get started creating relevant content to drive inbound hyperlinks and traffic to your website.
Top 8 Reasons Your Company Should Start Blogging
Tip #1 – Boosts search engine rankings
Search engines are attracted to well-written content. Did you know they also look at how often you publish it? You can establish your brand as a leader by creating regular blog content.
Tip #2 – Demonstrates thought leadership
Every day, new threats emerge in today's highly competitive technology environment. You need to be ahead of the curves today as development cycles shrink.
Your prospects should see the value in your SaaS application. Although you are a highly skilled group of developers, it is essential that you also be available to share your expertise.
Tip #3 – Creates personalization
The software allows customers to create new efficiency. Software should be enjoyable to use. This truth can be emphasized by displaying personality through your writing style. It is not enough to have a list of all the features of a website. Engage your visitors and create a lasting relationship.
Tip #4 – Shows activity
Some blogs are down for months without any updates. What message is this sending? This is certainly not a positive message.
You should, at a minimum, post blog content every month. Many argue that multiple posts per week are a good idea. Whatever your opinion, any activity is better than none.
Tip #5 – Supports social media efforts
You have made the decision to invest in social media. Your social media manager is always looking for new content to share. Publishing viral content will maximize your social media reach.
Tip #6 – Newsletter production simplified
Email marketing delivers consistent MRR for your SaaS tools. Every newsletter sends out several leads that become paying customers.
Your newsletter will feel desperate if it lacks content. If you are too pushy, subscribers will unsubscribe. By creating newsletter-friendly copy, you can give subscribers a reason to keep signing up.
Tip #7 – This opens the door to guest blogging
Inbound links can help you increase your visibility with search engines. A blog for other websites to spread the word about your SaaS business: this can lead to increased clicks and conversions.
If you don't blog on your site, why would you allow others to guest blog on it?
Tip #8 – Helps you shine
You are worthy of looking great. Your software is amazing. You are a smart person. Let the world learn more about you.
Benefits of Blogging in Business
Many people want to know if blogging is worth it after starting a business .
The short answer is yes! Here are the reasons we believe so.
Tip #9 – It drives traffic to your site
If you want more website traffic, raise your hand. Yes, I agree.
Think about how people find your site.
Although they could type your name into their browser, that would only be for an audience they already know. They already know you and you're on their radar. This doesn't mean you can get more traffic.
You can pay traffic by purchasing an email list ( don't you dare!), and blasting them. Then, hopefully some people will open the emails and click through. This is expensive and, as you may know, illegal.
You can pay traffic by placing lots of paid advertisements. This is legal but quite costly. Your traffic will stop coming if you run out money.
How can you get new readers or traffic to your website? You can do this by blogging, and optimizing your website for search engine.
Here's how it works.
Consider how many pages you have on your website. You probably don't have a lot. Think about how often those pages are updated. You probably don't update those pages that often.
Blogging is a great tool to solve these problems.
Each time you publish a blog article, it becomes one more index page on you website. This gives you one more chance to appear on the search engine result page (SERP), and drive organic search traffic to your site.
We'll be discussing more benefits of blogging for your SEO later. However, it is one more signal to Google and other search engines about your website's activity, and they should be regularly checking back to see what new content has been added.
Tip #10 – Blog content can be repurposed for social media
You can also blog for your business to get noticed on social media. You create new articles that can be shared on social media (Twitter, LinkedIn, Facebook and Pinterest). This helps you to expose your business's name to new audiences.
Blog content helps you keep your social media presence active.
Your blog can be used as a repository for content, rather than asking your social media manager to constantly create new content for social networks (or creating it yourself).
Your social reach is increasing by publishing blog content. You also drive new visitors to your site via your social media channels. It's a very symbiotic relationship, I have to say.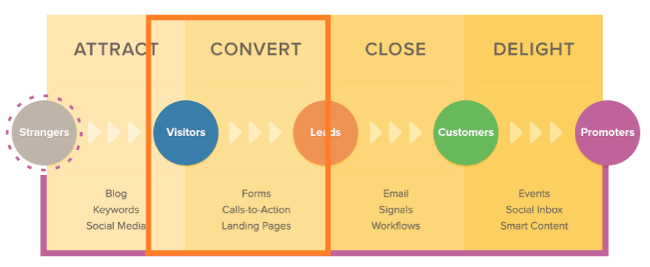 Tip #11 – It converts traffic into leads
You now have traffic to your website through your blog. Now you can convert this traffic into leads.
Every blog post you create is an indexed page. Each post is a new opportunity to generate leads.
This works by adding a call-to-action on every blog post.
These calls-to-action often lead to free ebooks and whitepapers as well as webinars, trial opportunities, or any other content asset that someone is willing to share their information.
It's easy to understand traffic-to-lead conversions if you don't know how it works.
Website visited by visitor
Call-to-action is displayed by visitor to receive a free offer
Click on the call-to-action to take visitor to landing page . This has a form that visitors can fill out with their personal information.
The visitor fills in the form and submits the information to receive the complimentary offer.
Scroll down to see the call-to-action button.
We publish 99.9% of our blog posts with call to action buttons. Yours should, too. This is how to convert website traffic into leads that you can use for your sales team.
Note: All blog readers won't become leads. That's OK. It is impossible to convert 100% of blog readers into leads. Start blogging. Put calls-to action on every post. Set a visitor-to lead conversion rate benchmark and work to improve it each month.

Tip #12 – It is a long-term strategy
The best business blogs address common questions that customers and readers have.
You will be a leader in your industry if you create quality content for your target audience.
Imagine the effect of a blog post that you wrote explaining things to a customer. How many salespeople could be able to close more deals if leads found blog content written and published by them?
Although "Establishing Authority" isn't a vanity metric like traffic or leads, it is a powerful tool. It can be used to measure sales capability .
That's because many of your blog posts end up being like that.
It's worth thinking about:
Let's say prospects discover answers to their everyday questions through blog posts written by employees of your company. Because they have been helped in the past, they are more likely to trust what you have to share.
Prospects who have read your blog posts are more likely to enter the sales funnel knowing more about your products and services, the market and your industry. This makes it far easier to have a productive sales conversation with prospects than one between two strangers.
An archive of blog posts can be used by salespeople to answer specific questions. These articles not only help speed up the sales process than if a rep had to create them from scratch but also position the salesperson to be a valuable resource for their prospect, which helps to build trust.
Tip #13 – Link building is easier when you blog
Backlinks or inbound links are some of the 200 elements Google considers when ranking sites on its search engine results page. SEO experts and small business owners believe that backlinks are the third most important factor in search engine optimization.
While generating inbound hyperlinks is important, 41% SEO experts believe that link building is the most difficult part of search engine optimization.
It's easier to get relevant links if you write articles that are valuable not only to your customers, but also to companies your audience considers industry leaders.
As a recommendation or vote of confidence, links to authoritative websites are a sign that you trust other websites. It also signals to Google that your website is trustworthy and an expert within your field.
Backlinks also have the added benefit of helping you to build your domain authority which will help improve your search engine visibility.
Tip #14 – It is a long-term investment
It would be amazing if you could go on a vacation to Hawaii, visit the gym, sleep as much as you like, and still drive traffic to your website.
But, there's good news! This is what blogging does, primarily through search engines.
Let me explain:
Imagine that you spend an hour writing and publishing a blog post on Sunday. Let's suppose that your blog post receives 100 views and 10 leads on Monday. On Tuesday, you get 50 more views and five additional leads.
A few more people discover it on social media and some subscribers catch up on their RSS and email. After a few days, the excitement from that post has subsided and you have 150 views and 15 leads.
It is not over.
This post has now been ranked, which means you will continue to receive traffic from it for many years. Although it might seem like you are on day one, the reality is that blogging works more like this:
You're driving traffic and leads while you are surfing in Hawaii, hitting the snooze alarm and working out. You can make hundreds of thousands of leads and views by putting in effort yesterday.
You can also monetize your blog content using many different methods. Affiliate marketing and makeup are two business models that allow you to make an income blogging about almost any topic, from beauty and camping to motorcycles and camping.
There are many affiliate programs that you can use to generate income by referring people to the right products and services.
Your older articles will be the most successful when it comes to blogging.
Hubspot blogs generates more than half the traffic each month from posts that were published in the previous months. These traffic comes from posts that were published in the past.
This is true for leads generated in the current month. About 90% of leads we generate each month are derived from blog posts that were published in the previous month. Sometimes, years ago.
These types of blog posts are called "compounding" posts. This doesn't apply to every blog post, but it's more likely that your blog posts will fall into this category.
Our research has shown that around 1 out of ten blog posts ends up being compounding blog posts .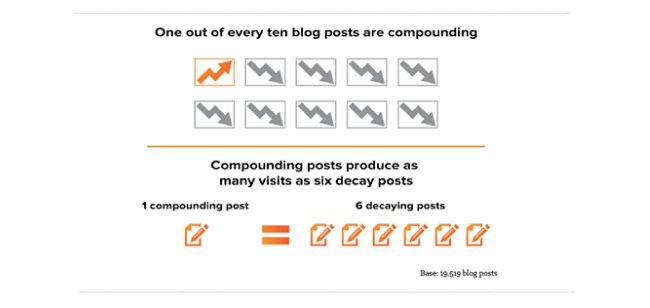 This is a great example of the scalability of business blogging.
Although you may not see immediate results right away, you can expect to see steady traffic and leads over time.
You can learn more about long-term blogging effects and how to get more from blog posts ranking in organic searches for your business. Check out this article: "The Blogging Technique No One Is Talking About" Optimizing the Past. "
Tip #15 – It allows you to share company news
Blogs can also be used to share news and stories from your company, whether you are a big or small business.
Blogs can include news and articles that show what the company is doing.
Are you looking for a content marketing manager to help you? It's a great idea to share it on your blog.
Interview industry professionals and online marketing experts. It can be posted on your blog.
Create a case study that shows how your products or services can help customers. It's a great case study that you can share with your readers on your blog.
Is your local fair or tradeshow being held? Your blog can help you get attention to the event.
Sharing company news on your blog not only humanizes your brand but also allows your audience to see that you aren't always selling.
Additional Benefits of Business Blogging
Although there are many reasons why businesses might blog, I believe they are less important than the main benefits of blogging.
Our blog is a great way to try out large campaigns without spending a lot of time and money. Our blog helps me to understand my persona.
While this should not be their primary purpose, they are still significant benefits for a business blog. However, I consider them secondary.
Conclusion: How to Start a Blog for Your Business
Yes, Your business blog has many benefits. You have seen how it can increase traffic, authority, leads, and build a relationship with your customers.
Make sure to use these 15 secrets when writing your next blog post for increased success!
If you want to gain more traffic and improve your search engine ranking, building a blog is an excellent way to start. With great content and a few simple clicks, you can quickly build a blog that will help you reach new customers and succeed in business.
Becoming an expert on your chosen topic will also give you the ability to launch your own products and services as well as attract clients for your online business coach clients.
By using a blog to develop your business, you are making yourself visible in the internet. This helps potential clients find your business and become your customers.
The use of a blog for your business is an effective way to keep the customers up to date on what you are doing. It can also help with search engine optimization and improve brand awareness.